Our Services
Many of our patients suffer from back pain or extremity pain caused by herniated discs or various other painful spine conditions. As interventional pain management specialists, we can help to diagnose the pain source and provide precise direct treatment with the assistance of fluoroscopic guidance, ultrasound guidance, and modern minimally invasive technology.
Back pain is just one of many pain sources treatable at Northeast Pain Management. Other pain issues treated here are:
Post-Herpetic Neuralgia
Cancer pain
Muscle pain and tendonitis
Nerve problems
Services Provided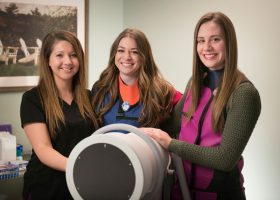 Our team of Physicians and Nurse Practitioners understands that acute and chronic pain presents differently among patients, and requires individualized treatment plans. Three popular treatment modalities are:
Additional Services Provided
X-ray Guided Spine Treatments
Joint Injections
Neuropsychology
We offer the services of a nationally recognized Ph.D. psychologist, Dr. Jonathan Borkum, to facilitate coping skills in relation to difficult and ongoing painful syndromes.
We also have onsite physical therapy provided by Absolute Physical Therapy.
Pain FAQs
For more information on these procedures, click the link above, or learn about these procedures in our Pain Q&A.