Our Services
Many of our patients suffer from back pain or extremity pain caused by herniated discs or various other painful spine conditions. As interventional pain management specialists, we can help to diagnose the pain source and provide precise direct treatment with the assistance of fluoroscopic guidance and modern minimally invasive technology. Back pain is just one of many pain sources treatable at Northeast Pain Management. Other pain issues treated here are knee pain, Post Herpetic Neuralgia, cancer pain, Complex Regional Pain Syndrome, neck pain, unresolved post-op pain, or nerve problems.
Services Provided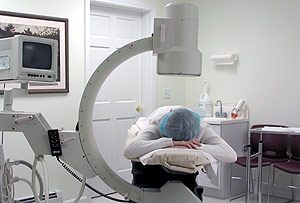 Spinal Epidural Injections
Joint injections, eg knee, hip and shoulder
Trigger Point Injections
Radiofrequency Treatments
Nucleoplasty
Vertebroplasty
Discography
Percutaneous Disc Decompression
Lidocaine Infusion
NCV Studies
Ultrasound Guided Injections
Platelet Rich Plasma (PRP)
EMG studies
We also have onsite physical therapy provided by Absolute Physical Therapy.
Pain FAQs
For more information on these procedures, click the link above, or learn about these procedures in our Pain Q&A.